Updated: 6 October 2020
The world is in a still and Costa Rica is no exception in this. Who would've thought that something like COVID-19 would happen and would literally freeze the whole wide world? When this all started we felt like we were part of some bad science fiction movie. We were still on holidays in Nicaragua living the careless surfer life. COVID-19 in Costa Rica or Nicaragua didn't seem like a real worry. It was still something far, far away in Asia. And ok, a little bit in our home country the Netherlands, but not even close to our current location. Little did we know back then.
Three days after our return in Costa Rica all borders closed due to COVID-19. Tourists started to panic about going home as fast as possible and the streets became empty. Fast forward six months later, how's Costa Rica doing now? Will you be able to enjoy your holidays here? Come surf those warm water waves, explore its luscious jungles? We'll give you a full update on COVID-19 in Costa Rica and what it may mean for you and for the local communities.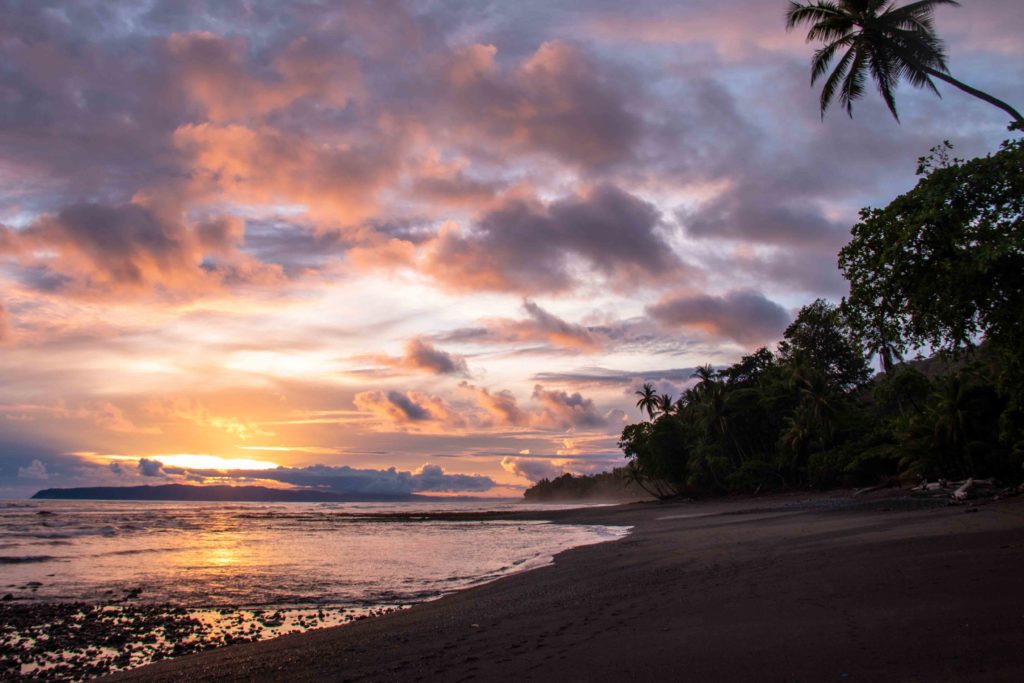 COVID-19 restrictions in Costa Rica
Compared to the rest of Central and South America, Costa Rica has actually been doing really well. However, there is an increase in cases at the moment, which makes the country divided in both Orange (stricter) and Yellow alert areas. The two areas have different restrictions, so it's advisable to look into which situation your destination is. Yellow or orange, what are the restrictions and what do they mean for you?
The Costa Rican borders will be reopening August 1st for foreigners from the EU, UK and Canada. From November 1st borders will also be reopening for visitors from all states of the United States. Tourists are only welcome via air travel.
Foreigners entering must complete de epidemiological form, which is known as the "Health Pass". You can find the form here.
Foreigners entering must present proof of a negative PCR corona test. This test must have been done 72 hours prior to their travels to Costa Rica.
Foreigners entering must have a travel insurance covering medical care or unexpected extended hotel stay.
People who haven't been able to leave the country and are staying here on a tourist visa, can legally remain in Costa Rica till the 18th of November.
Most common tourist attractions are allowed to operate normally. This includes all open-air activities like hiking, horseback riding, ziplining, snorkeling, etc.
Beaches are partly open from 5am till 2.30pm daily in Yellow alert regions. During this time frame you are allowed to go surfing, spend time on the beach, go for a walk, you name it! However, you're not allowed to gather on the beach.
Movies, theaters, gyms and salons are open with restrictions until 10pm on weekdays and 8pm on weekends. Ticket purchase for movies and theaters can only be done online. 
Hotels and accommodations may operate at 100%, while restaurants may operate at 50% of their normal capacity. Online check-ins and payments are advised. Approved bars and casinos are open at 50% of their normal capacity and are restricted to similar opening hours as all other establishments.
Most National parks are open. Tickets can only be purchased online.
When going to public places, people are requested to wear face masks and avoid singing, shouting or speak loudly. Also keep a 6ft/1.8m distance to other people.
The nighttime vehicular restriction begins at 10 p.m. during the week. From Monday to Friday, between 10 p.m. and 5 a.m. the following morning, most driving is forbidden. Daytime and weekend restrictions based on license plates still apply nationwide. Keep this in mind when renting a car.
Stay updated
The current increase in cases mostly takes place in the central valley of Costa Rica. That's why most of these restrictions are different up there. If you'd like to follow the official news on COVID-19 in Costa Rica you can check out the websites of the Ministerio de Salud or the Tico Times.
How has Costa Rica been affected?
Needless to say COVID-19 impacts Costa Rica massively. Tourism is one of its main businesses. Whether it's people postponing, or canceling their planned trip altogether, it means a lack of income for many people and their families. In case you do decide to cancel your trip to Costa Rica in the upcoming months, we would advice not to ask for refunds. The majority of businesses in tourism are small businesses. In order for these businesses to keep existing, they are depending on you and your deposits. Ask them to hold on to your deposit until better times.
Our personal experience and what you can do to help the local community
As you may know we currently live in the South of Costa Rica, in a little town called Punta Banco. Just minutes away from the world famous Pavones wave. This area depends entirely on tourism and is struggling big time these days. COVID-19, however, is not present in this area. With hotels being empty, boats on shore, restaurants closed, low season on the doorstep and no light at the end of the tunnel in the foreseeable future, people are having a hard time. With the tourist season possibly starting in December 2020/January 2021 again, it might mean there won't be any income for almost a year. 
Rules might be easing up, the world might let its guard down and it might seem that everything is slowly returning to normal in the Western world. But not in places like these. It is now that people could actually really use your help.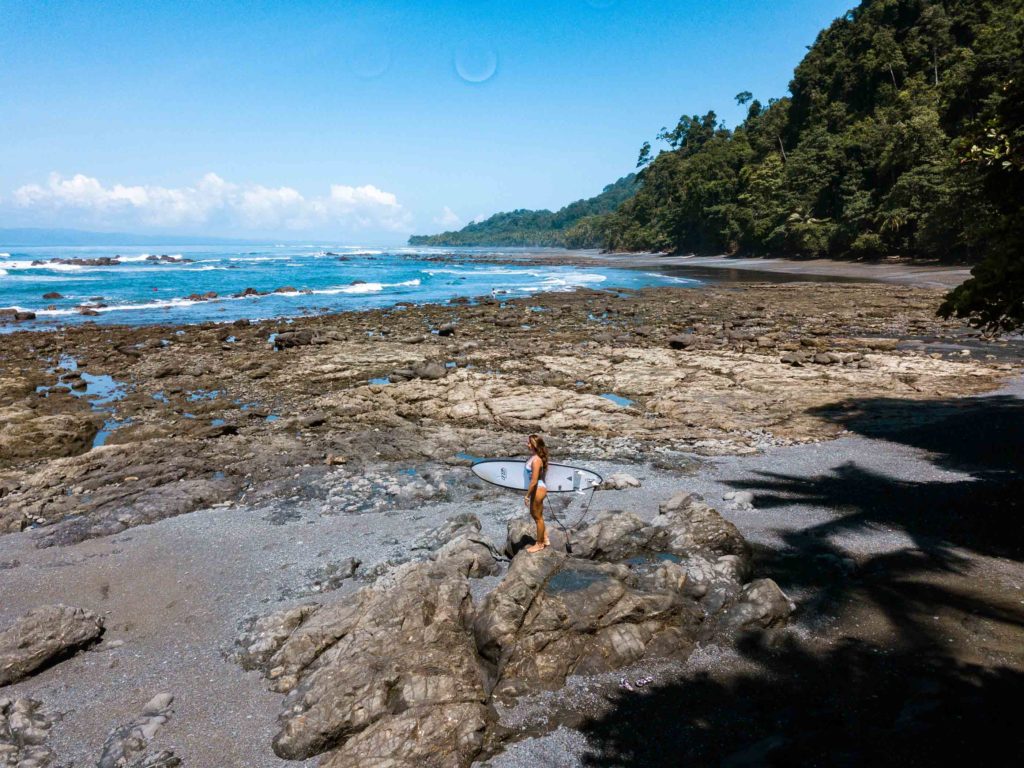 Food packages for Punta Banco
On behalf of Rancho Burica we have set up a GoFundMe page to raise money for food packages for the local workers and their families. We have been handing out these food packages to 14 families since June. We have put together these packages full of nutritious products locally sourced, to support local businesses. Every single dollar can count and even the smallest contribution can make a huge difference for one of the families here. If you would like to help out, you can find more information about the project here. 100% of donations will go into these food packages. 
Silver linings
Even though the world is going through an incredibly hard time, we love to see how people are getting together and support one another. There are many beautiful ideas born out of this situation. A situation that must be hard for everybody, no matter where you live or how fortunate you are. We hope that amongst all the harder times, there's also a whole lot of positivity and silver linings.
Maybe you won't be able to come down to Costa Rica for that surf trip you've been looking forward to for months. However, you can provide a helping hand for the families that you would've met and helped if the world was still its good old self. And you know what… Costa Rica isn't going nowhere. The palmtrees will always sway in the wind, the waves will always roll in, the monkeys will always wake you up with their howling sounds. She will be waiting for you, along with big thankful smiles and whole lot of Pura Vida vibes. Stay safe and healthy!
Love,
Marthe
Photos by: M. Barends & J. Roeland ©.